Johanna och jag gick med tjejerna när de skulle till skolan och fortsatte sen med att gå en lång runda. Väl hemma kom vår mäklare med en kille som skulle kolla på våra fönster då de behöver målas men det finns även de som behöver bytas ut då det är fukt och mögel emellan. Givetvis gjorde inte den firman träfönster utan bara PVC-fönster så de åkte igen. Nåja hon skulle kontakta en annan firma istället!
När vi hade gjort oss iordning så åkte vi till Camden Town och Camden market. Det är ju så stort att vi bara såg en del innan vi åt mexikansk lunch. Vi gick en liten runda till och åkte sen hem. Tanken var att vi eventuellt skulle ha stannat i stan till kvällen när vi skulle gå på pubrunda.
Vi var lite möra så vi valde att åka hem emellan och bara ta det lugnt. Åka tåg var dock väldigt sövande med allt vaggande men vi klarade oss utan att somna. Vi tog det sen lugnt tills Peter kom hem och det var det dags för oss att åka in till stan.
Felicia hade två kompisar som följde med henne hem efter skolan. De skulle sova över här eftersom vi skulle iväg och hon inte ville vara ensam.
Peter, jag, Emelie och Johanna möte upp Vic (guiden) tillsammans med Anders och 16 andra som var för oss okända innan kvällen. Vi började utanför Holborn stationen och började vår pubrunda på The Ship Tavern, Princess Louises, Museum Tavern, The Queens Larder, The Lamb, åt lite fish & chips på The Fryers Delight och avslutade på Cittie of York.
Att gå en guidad pubrunda innebär att man besöker 6 olika pubar och får lite historia om puben och eventuellt området de ligger i. Ibland har de någon öl eller liknande som är speciellt för just den puben eller kedjan de tillhör. Samuel Smith är en kedja som specialiserar sig på historiska byggnader och allt de säljer på sina pubar är deras egna märken. De har bland annat ett chokladöl som smakar väldigt mycket choklad, jag och tjejerna delade på en flaska men alla 3 kände att ca en dl räckte innan man fått nog. De har även ett jordgubbsöl som faktiskt var väldigt gott och som jag smakade på sista puben. Att gå en gå en sådan här pubrunda går alltså inte ut på att dricka en massa utan på att få se en massa mysiga pubar som man kanske inte annars hittat till.
Vi var hemma vid midnatt efter en fantastik trevlig kväll och kommer att göra det igen. Vic som har dessa visningar har 7 olika rundor som man kan gå på. Jag har nu gjort 3 av dem och kommer snart att göra min 4e 😉 Han har även en matrunda som ska vara riktigt bra, den får vi prova framöver.
……
Johanna and I walked with the girls towards school and then continued with a long walk. Arriving at home our agent came over with a window company who is fixing our windows. They need painting and some even need to be exchanged as there is moist and mold in-between them. Of course this company don't do wooden windows only PVC windows so they left again. Well she is contacting another company who will do it.
When we were ready we left and went to Camden Town and Camden Market. It is so big that we only saw a small part of it before we had Mexican lunch and then took another little stroll. The thought was that we were going to stay in town until evening when we were attending a pub tour.
As we were a little tired we went home between and just relax. Going by the tube was a little slumberous with all the wiggling but we made it home without falling asleep. We then just relaxed until Peter came home and it was time to go back to town.
Felicia had two friends home from school and they were going to stay over as we were going to be gone all evening. She didn't want to be alone.
Peter, me, Emelie and Johanna met with Anders and Vic (the guide) as well as 16 other we didn't know. We started outside Holborn station and started the tour at The Ship Tavern, Princess Louises, Museum Tavern, The Queens Larder, The Lamb, ate some fish & chips at The Fryers Delight and finished at Cittie of York.
To take a guided tour means that you will visit 6 different pubs during about 3 hours, you will learn some history about the pub and the area they are in. Sometimes they have a special beer or similar that is special to them or the chain they are in. Samuel Smith is a chain that specializes in historic buildings and everything they sell in their pubs are their own brand. They do have a chocolate beer that tastes a lot of chocolat, me and the girls shared a bottle but drank just a few mouthful each as it was enough. They also have a strawberry beer that is quite nice and I tried at the last pub. To take a tour like this is not to drink a lot but to see a lot of nice pubs that you normally wouldn't find.
We were at home around midnight after having a great evening and will do it again. Vic has 7 different tours you can take, I have now done 3 of them and will soon take my 4th 😉 He also has a food tour that is supposed to be really good, we are going to try it someday.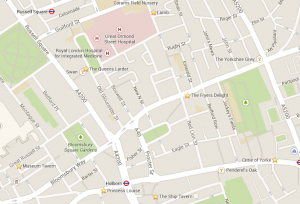 http://londonpubtours.weebly.com/