Helgen har varit intensiv, trevlig och full av aktiviteter. Mia och Pelle kom i fredagskväll och lördagen spenderade vi dels tillsammans i Hyde Park men också uppdelat. Peter och Pelle gick vidare till Imperial War museum och var där i ett par timmar medan jag, Mia och Felicia gick till Harrods.
Det är en väldigt fin affär, inte bara dyr utan även utseendemässigt fin. Vi gick lite bland kläderna, leksaksavdelningen för att sen avsluta i deras mataffär.
Söndagen åkte vi vuxna till St Albans dels för att se staden, katedralen och äta våfflor. Vi började med katedralen och trots att jag varit där innan så tycker jag om att gå där inne. De hade även försäljning av julkort för att stödja olika välgörenheter så det blev kort från Rädda Barnen och Diabetsfonden. Vi gick sen ner genom parken till våffelhuset där det var kö. Vi ställde oss i kön även om det var lång och det gick ganska så fort faktiskt. När vi beställt och fick våra våfflor så upptäcker servitrisen att vi är svenskar. Hon blir glad för det är inte så vanligt med svenskar i St Albans tydligen, själv hade hon blivit kvar efter att ha jobbat som aupair. Vi gick sen via Fishpoole Street tillbaka till bilen innan vi åkte hemåt igen.
Mia och Pelle åkte in till London själva på måndagen då jag hade annat inbokat. De tog en tur med hop-on hop-off bussen och en tur på Themsen. När de var tillbaka i Northwood var de trötta men nöjda, även om båtturen inte hade varit så särskilt bra.
När det var dags för mig att åka till engelskan på tisdagen åkte de in till stan för att se det sista innan de begav sig ut till Heathrow. De kom iväg med sitt plan även om det blåste väldans hela dagen här.
Peter och Felicia hade match igår som de åkte iväg på och de hade tur med vädret då det inte regnade. Den turen hade inte Emelie när hon gick från skolan till bussen, hon var genomblöt och iskall när hon väl kom hem.
På eftermiddagen satt jag här hemma och väntade på hantverkare som inte kom, jag meddelade vår mäklare och firman ringer och säger att de hinner inte hit under eftermiddagen men han skulle ringa mig under förmiddagen för att bekräfta om de kom 13 eller 14 idag. Jag väntade hela förmiddagen på samtalet men inget kom, klockan blev 13 och den blev 14 och inga hantverkare. När klockan var 14:45 knackade det på dörren. Stackaren som stod där fick sig en utskällning men det var ju inte hans fel, fick fjäska sen för att kompensera honom för mitt dåliga humör. Nåja nu har vi bytt ut våra mögliga fönster i alla fall men tätade är de inte. Det skulle de komma tillbaka för att göra…
……………
The weekend has been intense, nice and full of activities. Friends came Friday evening and Saturday we spent together walking in Hyde Park before we split. Peter and Pelle went to Imperial War Museum and spent a few hours there while Mia, I and Felicia went to Harrods. It's a beautiful store, expensive but also very nice to look at, we saw some of the clothes, toy department and the food halls.
We went to St Albans to see the town, the cathedral and have some waffles. We started with the cathedral and even if I have been there before I like to walk around inside. They also sold Christmas cards for charity and I bought cards from Save the Children and Diabetes UK. We walked through the Cathedral Park down to the Waffle House where there was a queue to get a table. We didn't have to wait that long and soon had a table. Once we got our order the waitress realizes that we are Swedes and get very happy as there aren't that many in St Albans. She had stayed after working as an au pair.  We took the Fishpoole Street back to the car before heading home again.
Our friends went to London on their own on Monday as I had other things booked already. They took a hop-on hop-off bus tour as well as a tour on Thames. Coming back to Northwood they were tired but satisfied even if they didn't think the boat tour was that good.
When I had to leave for English Class on Tuesday they went in to London to see the last few things before heading to Heathrow. Their flight took off as planned even if it was blowing a lot here the entire day.
Peter and Felicia went to watch a Watford game yesterday and were lucky as it stopped raining before they went. That luck didn't Emelie have walking from school to take the bus home, she was wet and cold when arriving back home. Having an umbrella doesn't help when it's really windy.
In afternoon yesterday I had to stay home to let the window company in but they never came, I let the agent know and the boss calls to arrange for them to come today instead. He would call me in the morning to confirm if they would be here at 1 pm or 2 pm. I waited for the call but it didn't come, and it became 1 pm and 2 pm and still no window company. At 2:45 they turned up and the poor guy didn't know what hit him but it wasn't his fault so I tried to make it up to him afterwards for my bad temper. Well now the windows have been replaced but they still haven't sealed the ones that need is badly. They said they are coming back…
Picture borrowed from www.britain-magazine.com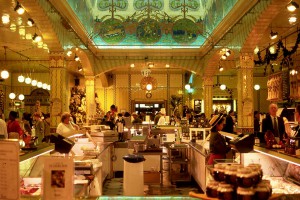 Picture borrowed from londonguide.blogspot.com

Picture borrowed from Wikipedia
Picture borrowed from www.britain-magazine.com