Vi började vår resa med att åka till Swansea. Emelie hade velat åka till Cardiff för att kunna gå på Dr Who museum men de var fullbokade de två dagar vi var i södra Wales. Vi bestämde därför att skippa Cardiff helt och ta det vid ett annat tillfälle, det är 3 timmar dit men vi tar det som en helg utflykt.
Vi kom fram till Swansea efter lunch och började med att checka in på hotellet för att sen åka in till stan, vi tittade på Swansea Castle ruinen som låg i centrum och gick sen ner mot vattnet och tittade på marinan. Vi tog oss sen till ett "museum" som vi hittat på nätet och som skulle vara från första och andra världskrigen. Först hittade vi inte det, det låg i industriområdet och vi trodde att vi kommit fel. Det såg inte ut som ett museum och vi gick in med låga förväntningar, men det var verkligen bättre än vi förväntat oss. Det var mest fokus på hur det var för dem som var hemma och drabbades av kriget på hemmaplan. Trots att flickorna provade kläder och vi tog det sakta var vi ute på 40 minuter. Någon entusiast har lagt ner massor av tid på att hitta alla dessa gamla saker, bilder och kläder.
Vi åkte tillbaka till hotellet och tog det lugnt en stund innan vi åkte in till stan för att äta middag. Vi hittade inga typiska lokala restauranger utan bara sådant som man kan hitta överallt i UK. Nåja mäta blev vi alla fall.
Vi åt frukost på hotellet och satte oss sen i bilen för att köra ut på Gowerhalvön och titta på naturen där. Vi körde igenom små byar och öppna fält tills vi kom ut till Southgate/Pennard där vi tittade på klipporna och utsikten. Vi tog en massa kort och alla tyckte det var fint där.
När vi tyckte att vi var klara där åkte vi vidare till Rhossili där Wales finaste strand ska finnas. Det var fantastisk utsikt men jag och Felicia hade ingen lust att ge oss av ner mot stranden så vi stannade kvar på toppen medan Peter och Emelie vandrade neråt. Molnen hade nu börjat hopa sig och det var lovat regn på eftermiddagen. När vandrarna kom tillbaka började det stänka så vi gick snabbt in på puben som låg närmast. Nu tänkte jag hitta något som var walesiskt och tog en Welsh Rarebit – vilket visade sig vara en varm ostsmörgås…
……………..
We started our trip by going to Swansea. Emelie wanted to go to Cardiff but her Dr Who activity was fully booked and we decided to skip Cardiff and go for a weekend instead.
We arrived in Swansea after lunch and went straight to the hotel to check in before going in to town and look at the Swansea Castle ruin. We then walked down to the marina before walking past the tourist office on our way to the car. Online we had found a "museum" that was from 1st and 2nd world war. It was hard to locate in the industrial area of town and we thought we were lost. It didn't look like a museum and we entered with very low expectations but it was way better than we had expected. It was mostly focus on how it was on the home front. Even if the girls tried on clothes from this era and we took it real slow we were done in 40 minutes. It's some enthusiast that have put a lot of time and effort to find furniture, clothes, pictures and other stuff from this time.
We went back to the hotel and just relaxed before we went back in to town to have dinner. We didn't find any local restaurants serving welsh specialties but only restaurants you can find everywhere in UK. We didn't have to go home hungry though.
We had breakfast at the hotel and then went out on Gower Peninsula to look at the nature and landscape. We drove through small villages and open fields when arriving in Southgate/Pennard where we looked and climbed the cliffs. We liked it a lot.
When we were done there we continued to Rhossili Bay where the nicest beach in Wales are. It was a fantastic view but Felicia and I didn't fancy walking down to the beach and stayed on the top while Peter and Emelie started to descend.
The clouds had started to get a bit dark and they had promised rain for the afternoon. Once the hikers came back we headed for the Worm's Head Hotel and had some lunch. I thought that I should try something from Wales and chose Welsh rarebit – which is grilled cheese toast…
Swansea Castle ruin

Dylan Thomas down by the marina

1940s Swansea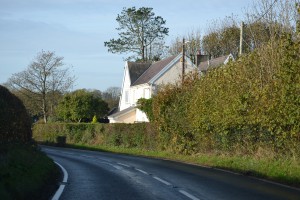 On our way to Gower Peninsula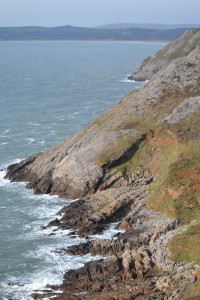 Pennard Cliffs

Rhossili Bay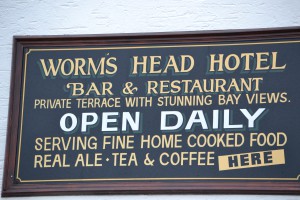 The hotel at Rhossili Bay