Igår var jag på vårdcentralen med Felicia för hennes hosta. Vet inte riktigt vad doktorn sa mer än att hostmedicin inte hjälper mot hosta… ??? Trots detta fick jag tips om hostmedicin och utskrivet antihistamin-tabletter och någon nässpray. Hon är svullen i halsen och det påverkar, men hon ser alltid ut så i sin hals (kan han ju inte veta) så hur vi ska kunna ta bort det vet jag inte.
Nåja, gick till apoteket och köpte hostmedicinen och hämtade ut hennes medicin. Här i UK är den gratis för barn som går i skolan, känns sådär att utnyttja det men det är fördelen med EU att vi får ta del av deras sjukvård fullt ut.
Om det verkligen var medicinen som verkade så snabbt eller om det var tillfälligheter vet jag inte men Felicia fick sova hela natten utan att hosta en enda gång. Emelie är också frisk igen och fortsätter på sin penicillin kur.
Peter har gått på julledighet och började den med att åka in och jobba ett par timmar. Vi åkte sen till Watford för att införskaffa en ny vattenkokare eftersom den andra helt plötsligt läckte som ett såll och fick slängas. Vi var i shoppingcentret mitt på dagen och ändå var det mer folk där än det var på Nova Lund i lördags. När vi var på Nova Lund råkade jag höra en kvinna som pratade i telefon sidan om mig, vad de pratade om eller om det var just då vet jag alltså inte men det blev komiskt för oss. Vi står i en nästan folktom affär och där är absolut inte trångt på Nova Lund, parkeringen var inte ens full och hon säger: "Här är hysteriskt mycket folk". Peter och jag tittar oss omkring och undrar om vi verkligen hörde rätt. Allt är relativt!
Yesterday Felicia and I went to Northwood Health Centre to see a doctor about her coughing. I don't really know what he said more than cough syrup don't help against coughing…??? Still I got a tip about coughing drops and he prescribed antihistamine tablets and some nasal spray. Her throat is swollen and that is causing the problem, that's the way her throat looks like (he can't know) so how we are going to take it away I don't know.
I went to the pharmacy anyway and got the cough syrup and her prescriptions. In UK medicine is free for children under 16 or still in school, feels strange to make use of that but that's the advantage of being in the EU. It's the same way around.
If the medicine really helped that quickly or it was coincidence I don't know but she got to sleep all night without coughing. Emelie is also much better and continuing with her antibiotics.
Peter has started his Christmas leave and began it with working for a few hours. We then went to Watford to get a new electrical kettle as the old one started to leak like a sieve and had to be thrown away. We went to the shopping mall in the middle of the day and there were more people than it was in Lund (Sweden) last Saturday. When being in Lund we overheard a woman saying "It's crowded with people" and we started to look around. There were hardly any people in the stores and the parking was not full. We see things differently.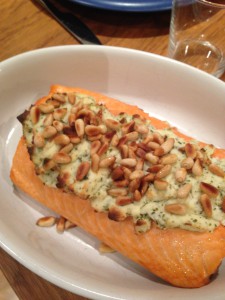 Yesterdays dinner – Feta cheese Salmon with Pine Nuts (from Jennys Matblogg)