Jul och nyår har passerat och vi är tillbaka i vardagen igen. Dagen innan nyårsafton kom våra första gäster och på nyårsafton kom nästa gäst. Vi brukar fira nyår ihop och det var vår tur att ha nyår så det passade bra att de kom hit.
Nyårsafton åkte vi in till London för att se lite turistsaker då barnen aldrig varit här tidigare. På önskelistan stod London Eye, Big Ben och Victoria Secret, vi gick inte in i någon butik eftersom vi inte var ensamma i stan. Vi var inte hemma förrän vid 19 och började då med nyårsmaten, vilket tog tid då vår skitugn fungerar sådär. Vi skulle ha potatisgratäng till huvudrätten och satte in den bland det första eftersom den tar lite tid. Efter 2 timmar tog vi ut den och då var inte alla potatisar klara och grädde och potatisar hade inte gått ihop överhuvudtaget. Nåja, vi blev mätta ändå men fick äta efterrätten efter 12-slaget då vi inte hann innan. Tack Pelle för all hjälp!
Nyårsdag skulle delar av sällskapet gå på fotboll på eftermiddagen och se QPR-Swansea. Vi andra tog det bara väldigt lugnt. Matchen innehöll inte så många mål men jag tror att alla var nöjda ändå. När de andra var på väg hem mötte vi dem och åt indisk mat till middag.
Eftersom en av gästerna hade fyllt 50 i höstas skulle några av oss gå på Afternoon tea för att fira detta, jag hade bokat in oss på Browns Bar and Brasseri på eftermiddagen. Killarna gick till Churchills War Room och barnen till Victoria Secret. När alla var klara så möttes vi upp ute på Wembley Park där vi gick och åt på Frankie & Benny's.
Våra gäster ville handla på Primark så på lördag fm innan vi åkte in till London fyllde jag bilen och körde till Watford där det är mindre folk än på Oxford Street. Vi hade bestämt att vi skulle äta lunch på ett fish&chips-ställe, The Fryer's Delight, inne i London så det började vi med. Vädret var inte det roligaste, kallt och regnigt så vi gick vidare till Cittie of York som är en pub där man tidigare hade Londons längsta bar. Eftersom alla inte varit på Victoria Secret skulle vi gå förbi där innan vi åkte hemåt igen och det fick bli en snabbvisit då inte alla var intresserade av att gå in. Vi fick en härlig promenad genom stan och det tog sin lilla tid. För vissa längre än andra då vi delade på oss och deras guide (Peter) hade svängt fel.
Vi var och åt på Ye Olde Greene Manne på söndagen och beställde in riktig söndagsstek, ja vi vuxna gjorde i alla fall. Barnen tog det säkra kortet burgare för att inte riskera att dö på kuppen. På eftermiddagen skulle första gästerna återvända till Sverige och när de packat satt vi bara och pratade tills det var dags för Peter att köra dem till flyget. Vi andra gjorde inget mer den dagen vilket också var skönt.
Sista gästen åkte på måndagskväll och på dagen åkte vi till Camden Market. Eftersom det var måndag var inte allt öppet och det var framförallt väldigt lite folk där, skillnad mot lördagar när man knappt kommer fram. Lunchen intogs på ett fish & chips ställe i Camden Town, Poppies, och sen åkte vi in till centrum för att fika. Jag tyckte att vi kunde gå till The Delauney men det visade sig att de hade stängt för renovering så det fick bli Patisserie Valerie vid Covent Garden istället.
The last guest left on Monday evening and during the day we went to Camden Market. As it was Monday everything wasn't open and it was very little people there, a huge difference from Saturdays when it's really crowded. We had lunch at a fish and chips place in Camden Town called Poppies and then we went back to central London to have a coffee. I thought we could go to The Delauney but they were closed due to renovation and we went to Patisserie Valerie near Covent Garden instead.

Christmas and New Year has passed and everything is back to normal again. The day before New Year's Eve our first guests arrived and on New Year's Eve the next one. We have been celebrating New Year's Eve together for many years and it was our turn to host it.
On New Year's Eve day we went to London to do some sightseeing as the children had never been to London before and they wanted to see London Eye, Big Ben and Victoria Secret. We didn't go to VS as we were not alone in town but we saw other things. We didn't return back home until 7 pm and started with the food which took time as our oven is really bad. We were doing potato gratin and started with that as it takes some time to cook. After 2 hours we took it out and all potatoes were still not done (should take 45 min normally) and it hadn't got creamy. Well we did not starve but the dessert we had to have after midnight as there were no time before.
New Year's day some of us were going to watch football in the afternoon, Queen Park Rangers-Swansea. The rest of us didn't do much. There weren't many goals in the game but I think they were happy anyway. When they were on their way home we gathered at an Indian restaurant for some dinner.
As one of the guests turned 50 this fall I had booked Afternoon tea for 3 of us at Browns Bar and Brasserie in the afternoon. The men went to Churchill's War room and the kids to Victoria Secret. When everyone were done we met at Wembley Park and the London Designers Outlet to have dinner at Frankie & Benny's.
As our guests wanted to go shopping at Primark I took them to the one in Watford before we went in to London, it's less people there than at Oxford Street. We had decided that we were going to have fish and chips at The Fryer's Delight as we have been recommended that to be the best one. The weather was cold and rainy and therefore we went to Cittie of York afterwards to show them where London's longest bar once was. As not everyone had been to VS we passed it on our way home but it was just a short stop as not everyone wanted to go inside. We had a nice walk through town and it took some time to get there. We split up and for some of us it took longer to get there than others as their guide (Peter) took a wrong turn.
Sunday lunch we went to Ye Olde Greene Manne to have Sunday Roast, or at least the grownups did. The kids took a safe card and ordered burgers. The same afternoon the first guest were leaving and after they had packed we just sat talking until it was time to leave for the airport.
Our chef for New Year's Eve
Camden Market Stables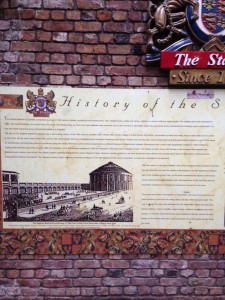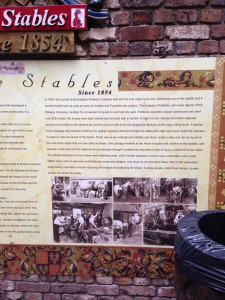 Samuel Smith Pubs – Cittie of York
 Poppies in Camden
In the bathroom of Poppies