Från kyrkan på basen kan man låna inpasseringskort till både St Paul's Cathedral och Westminster Abbey eftersom de alla tillhör samma stift.
Vi bestämde oss tidigt för att inte tvinga med tjejerna om de inte själva ville hänga med. Annars vill de bara åka hem och vi ville verkligen ta oss tiden att se dem båda ordentligt. Största fördelen med att låna dessa kort är att du slipper köa för att komma in. Nu är det oftast inte så farligt med kö på St Pauls men Westminster Abbey har oftast hundra meter kö.
Westminster Abbey är en av de mest är historiskt och intressant med alla stora namn begravda där och allt viktigt som har hänt där. Men det är en ganska enkel stenkyrka även om den är överdådig på sitt sätt.
Westminster Abbey är en av de mest betydande religiösa byggnader i Storbritannien och har varit den traditionella platsen för kröningar och gravplatser för engelska och, senare, brittiska monarker. Det är en hel del historia och riktigt intressant med alla kända personer begravda där och kyrkan är stor och imponerande men inte magnifik.
St Pauls är helt annorlunda eftersom den är mycket mer pampig och vackert dekorerad. De är så olika varandra och det gjorde inget att man inte fick fotografera där för det hade nog inte kunnat återge storheten.
På båda ställena så fick man en audioguide att lyssna på och det är ganska så behändigt att man kan lyssna i egen takt och på det som man vill.
När vi hade sett allt där nere i St Pauls gick vi först upp till Whispering Gallery vilket ligger 30 meter upp och man ser ner på kyrkgolvet, hit upp kan man ta sig delvis med hiss men inte hela vägen. Vi valde att gå upp och efter 257 steg var vi uppe. Man ska kunna sitta på ena sidan och viska så hörs det på motsatt sida men eftersom det var fler än vi där så fick vi inte det att fungera.
Vi fortsatte upp ytterligare 119 trappsteg till Stone Gallery och nu kunde vi gå ut och titta på utsikten. Helt fantastisk och vi hade tur med vädret för solen sken även om det blåste en del där uppe. Men det var inte slut där utan vi klättrade upp 152 trappsteg till Golden Gallery och här såg man nästan hela vägen hem till oss.
Från Northwood kan man se Wembley Stadion och den såg vi och mer därtill. Det var tur att tjejerna inte var med. Felicia hade vi detta lag varit uttråkad och Emelie hade aldrig gått upp där.
Det var många timmar i båda kyrkorna och Felicia är inte så intresserad om man säger så. Emelie är bättre men inte om det inkluderar höjder. Jag fick sätta mig när vi kom ner för jag blev snurrig av att gå ner för trapporna när det bara gick runt och runt.
Bilderna har jag lånat från Wikipedia eftersom man inte får fotografera inne i någon av kyrkorna.
Westminster Abbey: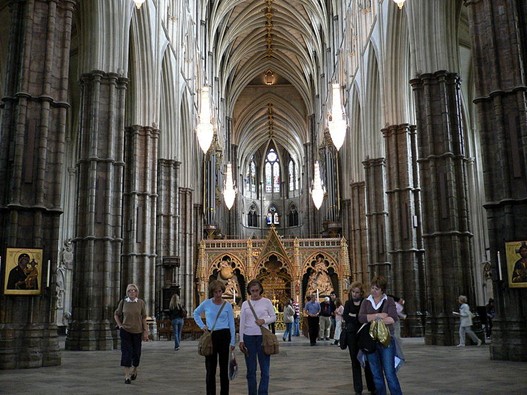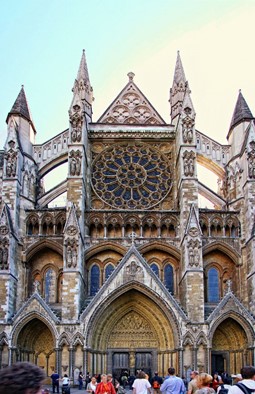 St Paul's Cathedral: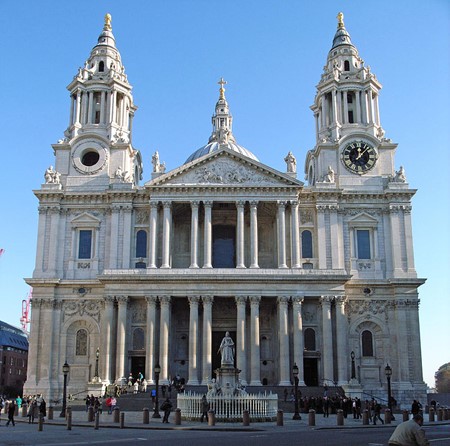 English

From the church on base we can get free passes to the St Paul's Cathedral and Westminster Abbey as they all are in the same diocese.
We decided from the beginning not to force the girls to come along if they didn't want to come on their own. Otherwise they are just asking when we are done and we really wanted to take the time. The advantage having these cards is that you don't have to stand in line to enter. St Paul's not so bad but Westminster Abbey always have a really long line.
Westminster Abbey is one of the most notable religious buildings in the United Kingdom and has been the traditional place of coronation and burial site for English and, later, British monarchs. It's a lot of history and really interesting with all famous people buried there and the royal things but the church magnificent but not grand.

St Paul's is completely different as its more grand and decorated.  They are so different from each other but both impressing, there was no photographing allowed but I think you need a special camera to make it justice.
At both places you will get an audio guide to listen to in your own order and as much as you want.
When we had seen everything on the cathedral floor we went upstairs to Whispering Gallery which is about 30 metres above the floor which you can see from here. You can use an elevator for part of the going up but not all the way up. We walked and it is 257 steps. Up here it's possible to sit on one side and hear what the person on the other side is whispering but there were so many people we couldn't do it.
We climbed another 119 stairs to the Stone Gallery and this was now outside. It was a fantastic view and we were so lucky with the weather as the sun was out even if it was a bit windy up there. This was not the end of our climbing and after another 152 steps we reached the Golden Gallery and from there you could almost see all the way to Northwood.
From Northwood you can see the Wembley Arch and we saw that and even more. It was good that the girls didn't come. Felicia would have been bored by now and Emelie would have refused to climb to that height. It was many hours in both churches and Felicia is no big fan, to say the least, Emelie would have found it interesting as long it doesn't include heights.
Walking down the stairs made me have to sit down, they were going around and around so by the time we reached the cathedral floor I was dizzy.
The pictures are borrow from Wikipedia as you are not allowed to take pictures inside the churches.