Nu är vi hemma igen efter att ha varit i Cornwall ett par dagar. Vi har hunnit se en hel del och även suttit en hel del i bilen men det var det värt.
Vi började resan med att åka förbi Stonehenge, inte så imponerade då vi tyckte att det påminde en del om Ales Stenar på Österlen. Nåja lite större kanske men ändå stenar. Vi fortsatte ner mot Cornwall och kom på att vi skulle åka till Jurassic Coast men då det låg lite åt fel håll slutade det med att vi doppade tårna i Atlanten på Charmouth Beach nära Burton Bradstock. Vårt boende låg inte i Cornwall eftersom det var omöjligt att hitta boende för de dagarna vi kunde åka i Cornwall. Vi hittade däremot boende i Torquay där vi utgick från resten av resan.
Vi bodde på ett fint hotell som låg otroligt vacker uppe på höjden i Torquay med utsikt över både stan och hamnen, vi hade båda våra rum med utsikt mot vattnet. På kvällen åt vi på hotellet och jag valde att äta fisk med tanken att vid kusten borde ett hotell med så hög standard ha en bra fiskkock, låt oss säga som så att jag hade fel…
Det blev ingen sovmorgon utan vi ville komma iväg så fort som möjligt för att få ut så mycket som möjligt av vår dag, uppskattades inte lika mycket av tonåringarna men de överlevde. Vårt första stopp, dag två, var vid Smeaton's Tower i Plymouth där vi hade en fantastisk utsikt över stan. Peter och jag har varit i Plymouth tidigare men jag har inte varit vid fyren tidigare. Vi var fortfarande inte i Cornwall så nu var det dags att ta sig vidare.
Vi åkte till St Michael's Mount dit vi kunde gå ut eftersom det var ebb men fick sen skynda oss tillbaka för att inte bli blöta om fötterna. St. Michael's Mount är ett slott som ligger ute på en liten ö och som du kan ta dig till på två sätt, gåendes eller med båt. Du kan se här hur det ser ut.
När vi var klara här tog vi oss vidare till Land's End som ligger längs ut på spetsen av Cornwall. När vi kom var det inte sol utan molnigt och blåsigt, vi gick runt och tittade och gick så långt ut vi kunde. När vi började gå tillbaka började dimman rulla in och sen gick det fort. När vi kom till bilen så var det som att titta på en filmjölksvägg när man tittade ut mot där vi varit bara ett par minuter tidigare och man såg inget.
Vi åkte då till Minack's Theater som är en utomhusteater från 1932 men tyvärr hade de precis stängt så vi kom inte in och kunde titta på den. Men vi gick runt där det gick att se och såg då Porthcurno Beach som såg ut som om man befann sig någonstans på varmare breddgrader. Hade det varit varmare hade det varit mysigt att bada där men vädret var definitivt inte badväder.
Det började bli kväll och vi var alla hungriga så vi bestämde oss för att åka inom Falmouth för middag på väg tillbaka till Torquay.
Vår tredje dag började inte så där lysande, det regnade och var inget roligt alls. Men eftersom vi skulle åka tvärs över Cornwall visste vi att vi skulle sitta en del i bilen så då gjorde det inget. Vårt första stopp var på Jamaican Inn i Bolventor som är ett värdshus som ligger på Bodmin Moor och som förekommer i Daphne du Mauriers böcker. Värdshuset har funnit länge och sägs ha byggts 1750.
Efter att vi ätit lunch där så åkte vi vidare till Tintagel, vi tittade på det gamla postkontoret som byggdes runt 1380 innan vi vandrade vidare ut mot Tintagel Castle. Där slottet låg har man hittat lämningar från Järnåldern på att det redan då fanns ett fort här. Sin stora litterära berömmelse fick Tintagel Castle när Geoffrey Monmouth namngav det som stället där Kung Arthur avlades, och det sägs att Richard, Earl of Cornwall blev inspirerad att bygga ett slott här 1230.
Emelie ville inte klättra upp på höjden då hon inte gillar höjder, jag stannade hos henne medan de andra gick längst upp och tittade på vyn. Emelie och jag tittade på vyn från vår höjd vilken var betydligt högre än Emelie önskat. När de andra kom tillbaka ner gick vi ner till grottan (Merlin's Cave) för att inspektera den och ta lite foton.
Alla var nöjda med resan och även om det blev en lång hemresa var det ganska så skönt att få komma hem och sova i sin egen säng igen.
English

Now we are back home after have explored Cornwall for a few days. We have seen quite a lot even if we also have spent a lot of time in the car.
We started the trip by going to Stonehenge, we weren't so impressed as we thought it reminded a lot of Ales Stenar in south Sweden. Well bigger but still stones. We continued towards Cornwall and realized we wanted to go to Jurassic Coast but as it was the wrong way we ended up dipping our toes in the Atlantic Sea at Charmouth Beach near Burton Bradstock. We weren't going to stay in Cornwall as we had problem finding accommodation for the days we wanted to visit Cornwall. We did find a great hotel in Torquay where we stayed and then did outings in Cornwall. The hotel was situated above the town and harbor and we had sea view from both our rooms. In the evening, we had dinner at the hotel and I figured that a nice hotel as it was, by the sea must have a chef good in cooking fish. Well let's put it like this, I was wrong…
We didn't sleep in the next morning as we wanted to get going and enjoy as much as possible of the day, wasn't as appreciated by the teenagers but they survived. The first stop for day two was by Smeaton's Tower in Plymouth where we had a wonderful view over the town as well as the harbor. Both Peter and I have been to Plymouth before but I have never been up by the light house. We still weren't in Cornwall but now it was time to move on.
Our first stop in Cornwall was St Michael's Mount where we could walk due to low tide but had to hurry back not to get wet feet. St Michael's Mount is a castle on a small island just outside the Marazion Coast and you can go there by either walking or by boat. Look here to see the tide.
Once we were done we continued to Land's End which is the most westerly point of mainland Cornwall and England. The weather wasn't sunny but not bad, windy and cloudy, and we did start to walk around the site. When it was time for us to turn back the fog started to roll in and then it went quickly. By the time, we got to the car it was like a milky wall looking in the direction of where we came from just a few minutes before and you could make out the buildings.
We drove to Minack's Theater, an outdoor theater from 1932, but sadly they just closed when we arrived and we couldn't get in to look at it. But we walked around the area to see what we could see and then saw the Porthcurno Beach which looked like somewhere further south where the temperature is higher. If it had been better weather, we would have taken a swim there but sadly we didn't have nice weather.
The evening was coming and we were all by now hungry and decided to go back to Torquay via Falmouth to have dinner.
Our last day didn't start with good weather, it was raining and windy. But as we were going to cross all of Cornwall we knew we were going to spend some time in the car and then it didn't matter. Our first stop for the day was at Jamaican Inn in Bolventor, an inn on the Bodmin Moor that has been there since 1750 and made famous by the author Daphne du Maurier's book.
After we had our lunch there we continued to Tintagel, we saw the old post office house which was built in 1380 and then we walked towards the Tintagel Castle. Where the castle laid, they have found remains of an Iron Age fort. The castle became literary famous when Geoffrey Monmouth named it to be the place where King Arthur was conceived, and it's said that Richard, Earl of Cornwall got inspired to build a castle here in 1230.
Emelie doesn't like heights so she and I stayed halfway up while Peter and Felicia continued all the way up and looked at the fantastic view. There was a view where Emelie and I stood as well and way higher than Emelie liked. When the others came back we continued down to Merlin's cave to look at it and make some pictures.
Everyone was happy with the trip and even if it was a long drive home it was nice to get home and sleep in my own bed.

Charmouth Beach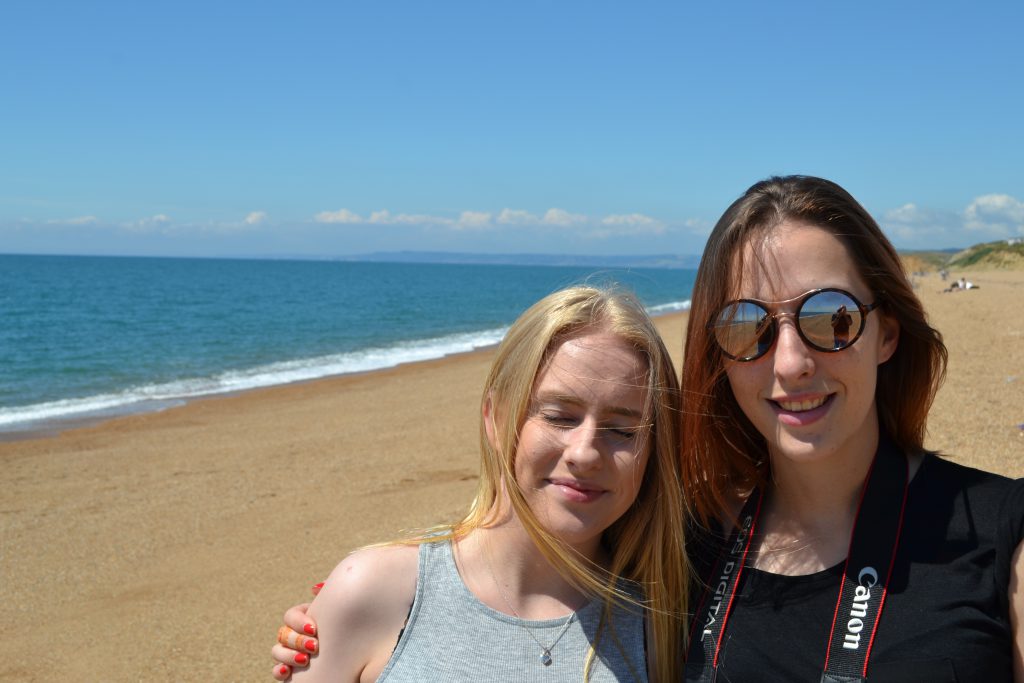 Charmouth Beach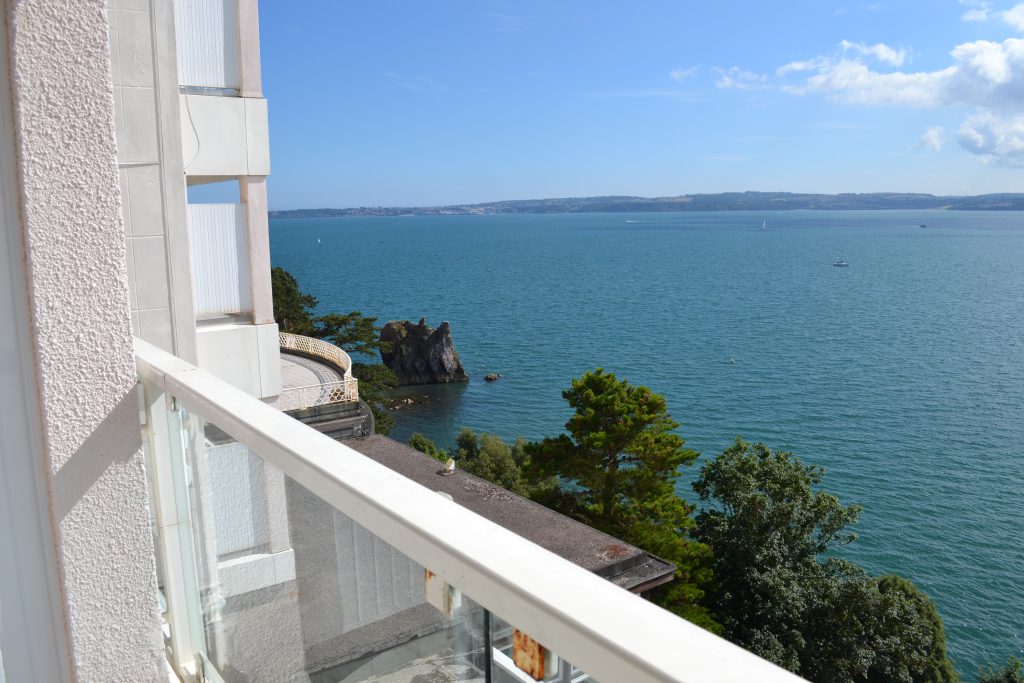 View from our hotel in Torquay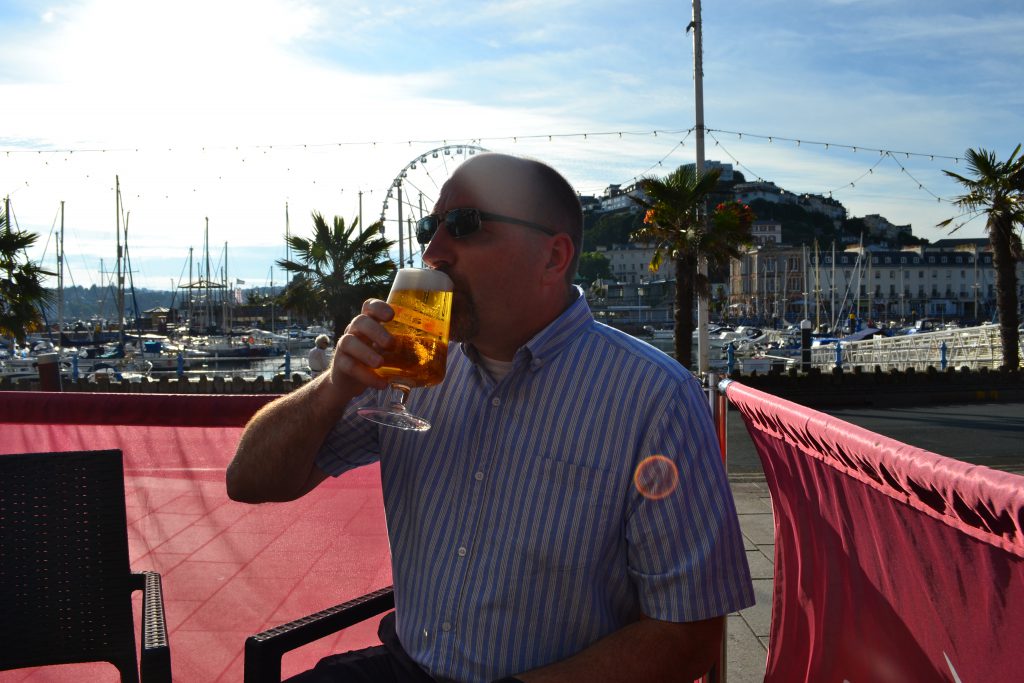 Peter having a beer in the harbour of Torquay

Plymouth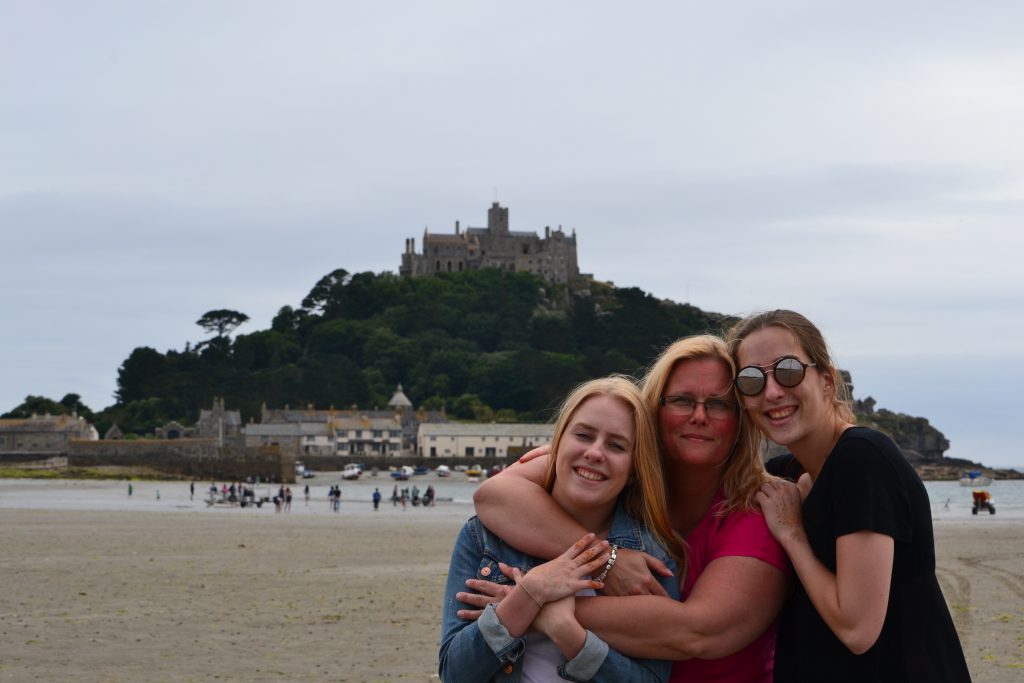 St Micheal's Mount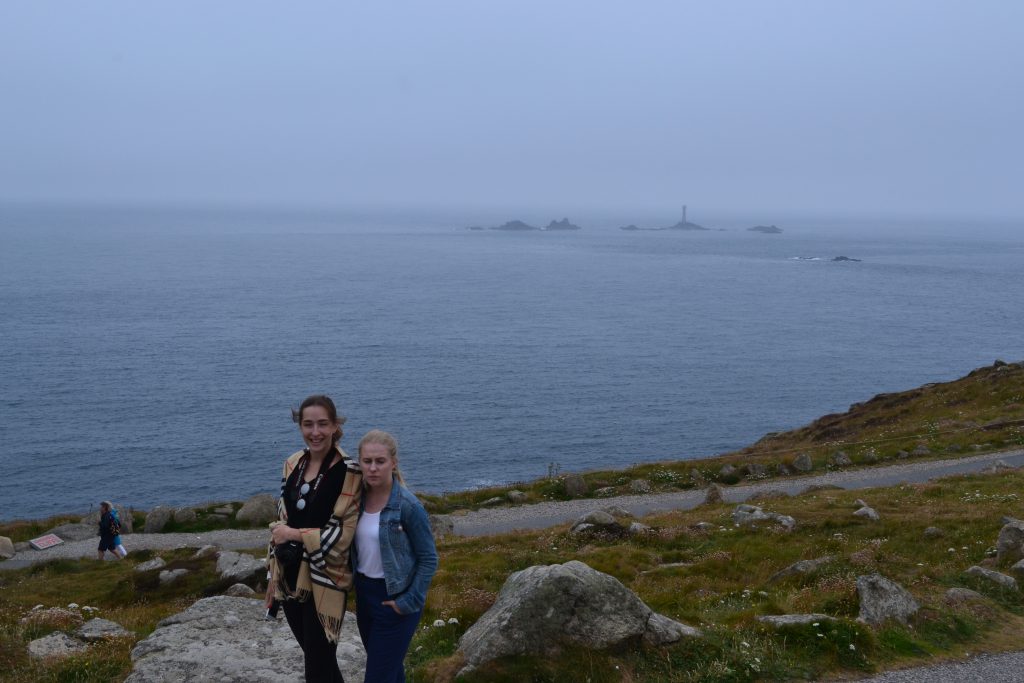 Land's End
Porthcurno Beach
Jamaican Inn, Bodmin Moor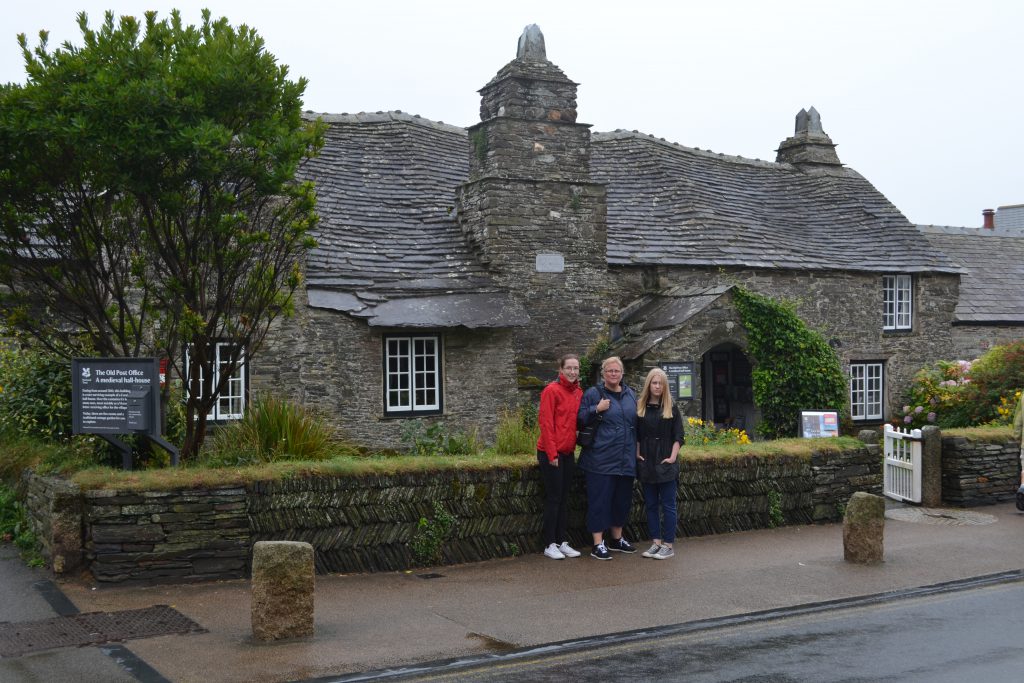 Old post office in Tintagel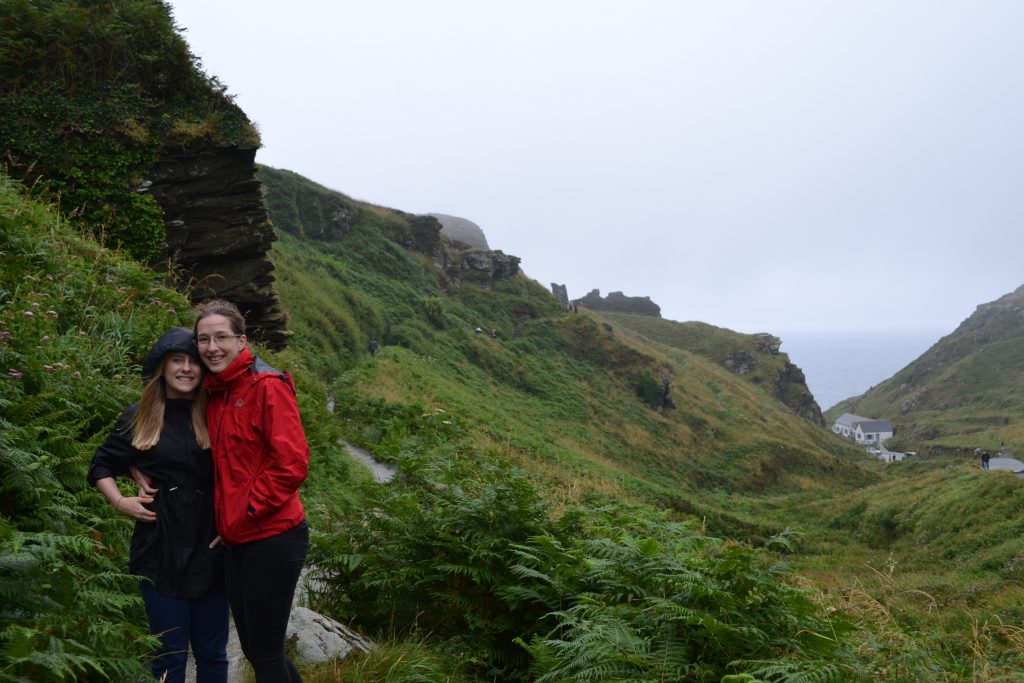 Tintagel
King Arthur, Tintagel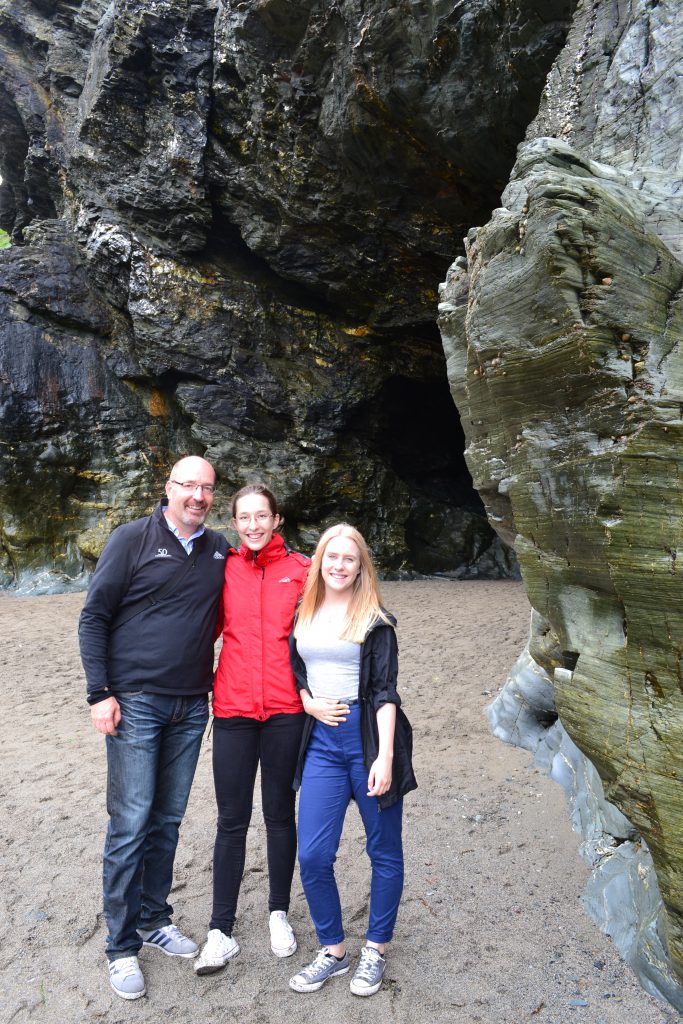 Outside Merlin's Cave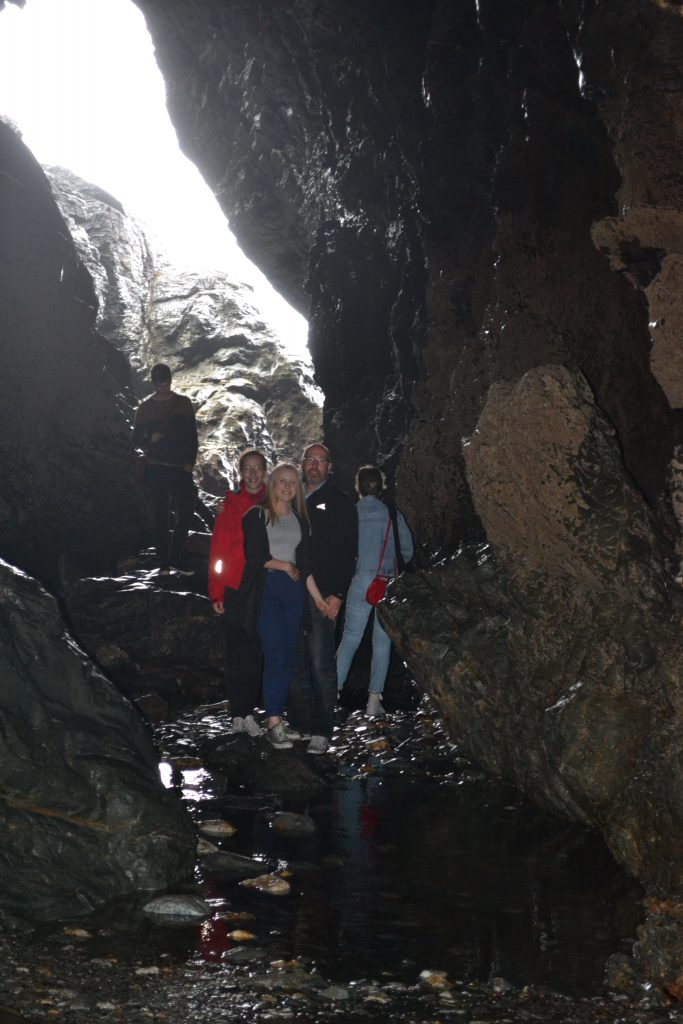 Merlin's Cave