This weekend we headed to Charleston in South Carolina for some sightseeing. We left early on Friday morning to head north east and hoping to get there mid afternoon.
The traffic wasn't bad going to SC and we arrived in the afternoon and had Friday late afternoon, evening and all of Saturday and some part of Sunday. We had planned what we wanted to do and even had time to squeeze in some extra due to open time in the schedule.
We saw the oldest oak tree just outside of town which is called Angel Oak, it's believed to be 500 years old and is magnificent. It needs some support here and there and is protected by fence and signs.
We did visit the Firefly distillery, they had a selfguided tour but the guy in the factory took us for a guided tour. They are 5 employees in the factory and produce and pack 12,5 million gallons of alcohol a year. We then had a drink in the bar and some food from the food truck outside.
Magnolia Cemetary is an old and large cemetary in North Charleston and where the Hunley Crew is buried. You take the car and drive in the cemetary which felt very strange. We did look for parking spaces outside but the only thing we found was signs saying NO PARKING. It's an old cemetary according to American standard but it was constructed during 1850 and the chapel was heavely damaged during the civil war. The reason we went there was that the crew from the first submarine is buried there.
The first submarine was used during the civil war and sunk outside Charleston. We visited the museum where they have a the history of the submarine as well as the actual submarine.

"On February 17th, 1864, the H. L. Hunley became the first successful combat submarine in world history with the sinking of the USS Housatonic. After completing her mission, she mysteriously vanished and remained lost at sea for over a century. For decades, adventurers searched for the legendary submarine. Over a century later, the National Underwater and Marine Agency (NUMA), led by New York Times-bestselling author Clive Cussler, finally found the Hunley in 1995. News of the discovery traveled quickly around the world. A ground breaking effort began to retrieve the fragile submarine from the sea. The Hunley Commission and Friends of the Hunley, a non-profit group charged with raising funds in support of the vessel, led an effort with the United States Navy that culminated on August 8th, 2000 with the Hunley's safe recovery." (https://www.hunley.org/overview/)
King Street is just a shopping street in Charleston and is supposedly divided into different sections with stores. We did just a small part and had something to drink as we wasn't there to shop.
Two breweries was visited on different day so you don't have to worry =) Driving into Charleston we saw the first one Low Tide Brewing and it was a really nice place with apparently good beer. The second one was on King Street and is called Rusty Bull Brewing Co, it was busy but we stayed only for a quick drink as we had to squeeze in more sightseeing.
We walked by Aiken-Rhett house which is an antebellum house (before the war) showing the history of old Charlestons powerful and wealthy Governor William Aiken, Jr. and the enslaved Africans who maintained their house, property, and way of life. As it wasn't open for the public when we passed we took some pictures from the outside and continued.
We walked through the City Market which is a long building in the middle of the street containing different type of sellers. They had craftwork as well as things you could by anywhere. We didn't walk from one side to the other as things started to repeat itself.
The French Quarters was lovely and had cobbled streets and quaint houses, overall most houses in Charleston was older looking and it seemed there is some protection with buildings. Downtown houses looked like they had been there from the beginning even if you could clearly see that they had been renovated.
In the French Quarter we went to the Old Slave Mart Museum which has been in operation since 1938. It's located in a house where slaves used to be sold. As many as 35-40% of enslaved people entered the USA through Charleston. There isn't much to see but a lot to read from the time there. The building was built in 1858 and was added to National Register of Historic Places in 1975 for its role in the history of African-Americans in Charleston.
We walked along The Battery and passed Rainbow Row which is colourful houses. There weren't that many and I thought it would be more like if you go to Nyhavn in Copenhagen. We then also passed the Old Exchange which we skipped so we could instead go to visit a plantation.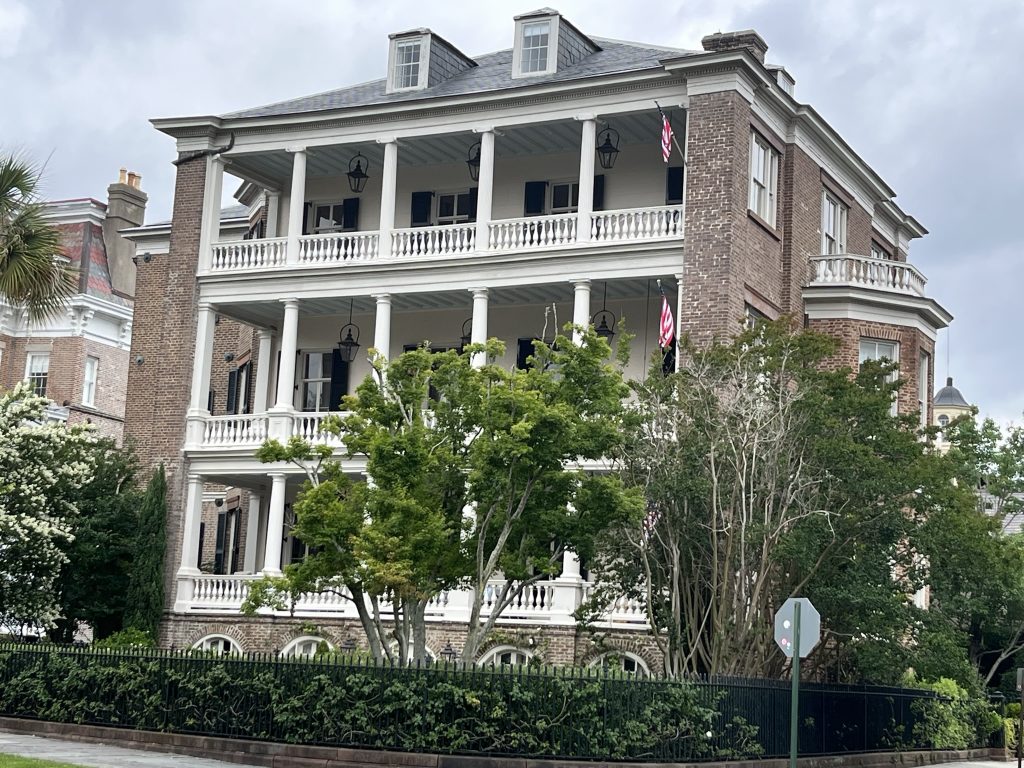 We visited Boone Hall Plantation which was founded in 1681 by a English Major. The major and his family and descendants have been influential in the history of South Carolina. The mojor's son planted oak trees in 1743 in two long rows which is leading up to the main house. This part has been seen in film when they want to symbolise the south and the rich plantation owners. When we arrived we had to choose between a guided tour of the plantation or the main house. As the main house was rebuilt in 1936, using the material from the old house we opted out of that one. Besides it's filled with old English antiques which we have seen plenty of visiting grand houses and such in UK. After the tour we walked over to the slave quarters that have been saved. Each house was like a museum for how the slaves lived, how they got there and why they were at the plantation. The plantation had cotton for many years, then they had pecan trees for a while but many of them got destroyed in hurricanes. Part of the land is today overgrown because that's what happens when you don't grow anything, but other parts have peaches, blueberries and other fruits and berries growing there. The plantation is a museum but also a running farm. Really worth the extra drive and time.
We did pass the Yorktown when heading to Fort Mountrie to see Fort Sumters. We could easily have filled another day with these activities but I'm glad P was content just seeing it from a distance.
Charleston is a lovely place to walk around and it's easy to explore by foot unless you have any disabilities. All the trees have made it a bit uneven to walk =)